The anesthesiologist may be consulted to help manage your child's pain following the surgery. Although "painkilling" injections are still commonly used, other forms of pain management may also be chosen to provide comfort. For instance, patient-controlled analgesia (PCA) allows a child to self-administer a controlled dose of pain-relieving medicine when needed. A small, computerized pump is programmed by the anesthesiologist, and children 8 years old or older may be instructed on PCA use.

Another approach is the insertion of a tiny epidural catheter in your child's back through which a small dose of medication for pain relief can be given. This allows the child to be more awake and lessens the chance for complications from the use of other pain medications. Sometimes, the epidural pain relief can be continued for several days after the operation.
Use these tips to make sure your child doesn't suffer unnecessarily:
Before surgery, a nurse will probably give your child a mild sedative to make him relaxed and sleepy. Ask the doctor if your child should also receive additional pain medication before or during the surgery so it's already working when he wakes up in the recovery room.
If your child's pain is severe, ask to speak to a pain specialist (usually a specially trained anesthesiologist).
Ask about nondrug pain relief, including relaxation techniques such as deep breathing. Your doctor may also recommend heat or cold compresses, massage, rest, changing positions in bed, or simply good distractions (such as TV, video games, music, puzzles, or drawing).
If your child needs to take pain medication for a while, be certain that it's carefully monitored. Every time a nurse comes in with medication, check the drug name, dose, and schedule (to make sure it's the right amount of the right drug at the right time). Keep tabs on your child's medication schedule so you can hunt down the nurse if a round gets skipped—or keep an extra dose from being administered.
Ask the doctor if your child needs a prescription pain medication or if an over-the-counter product will do the job. Sometimes, the best post-surgery pain relief comes from simple medications like acetaminophen (Tylenol) and ibuprofen (Motrin or Advil).
Learn the side effects of your child's pain medication, so you'll know what to expect and what's a trouble sign. Luckily, sleepiness is the most common side effect from pain meds. But constipation is common too, unfortunately.
Tell the staff about any signs that your child is in pain, meaning any little, unusual things he may do that only you would recognize. This is especially important if you can't always be at his bedside.
Most important, speak up if you think your child is in pain! Far too often, I see kids suffer needlessly because they're not getting effective pain medication. Don't be chicken. Don't accept responses like "Some pain is normal." Ask if the dose can be increased or if another drug might work better.
From The Smart Parent's Guide: Getting Your Kids Through Checkups, Illnesses, and Accidents by Jennifer Trachtenberg.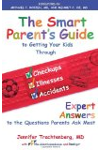 Continue Learning about Pain Treatment