Watch as women's health expert and advocate Dr. Donnica Moore explains whether or not certain foods can help alleviate pain.
Eating the following foods can help reduce pain:
Black cherries contain antioxidants.
Blackberries have salicylic acid, which is the same active ingredient in aspirin.
Broccoli is a powerful antioxidant. It contains vitamin C and calcium.
Cheese (dairy and soy) contains calcium for stronger bones. Strong bones are important to prevent osteoporosis and fractures.
Chili peppers are filled with capsaicin, which gives food a spicy kick and fights inflammation. The hotter the food, the more capsaicin, and the greater the benefit.
Curry, ginger, mustard, and turmeric, which contain curcumin, an anti-inflammatory.
Green tea (or black tea that contains theaflavins) has strong phytochemicals that help protect the body. They short-circuit the process that leads to inflammation.
Olive oil forms chemicals in the body that decrease inflammation.
Omega-3 fatty acids can decrease inflammation. Such fish as salmon, sardines, and tuna are good sources.
Pineapple contains bromelain, an enzyme that helps reduce inflammation.
Red grapes contain resveratrol, which protects against coronary disease and cancer, and antioxidants.
Soy milk may decrease pain. It is low in saturated fat, and tofu is an excellent meat substitute.
Walnuts contain vitamin B6 for healthy nerve/cell communication.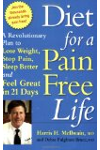 More About this Book
Diet for a Pain-Free Life: A Revolutionary Plan to Lose Weight, Stop Pain, Sleep Better and Feel Great in 21 Days
Do you wake up each morning aching with joint or muscle pain? Have you been trying to lose stubborn belly fat for years? Do you wish you could be active without pain medications? Look no further: Diet for a Pain-Free Life is the simple-to-follow, doctor-designed solution to improve your health. Leading rheumatologist, Dr. Harris McIlwain shares his revolutionary prescriptions in this first proven lifestyle plan that will help you drop pounds and decrease pain at the same time. Losing just 10 pounds can reduce chronic pain by as much as 90 percent. Learn the secrets of how to: Eat Well and Lose Weight with the Pain-Free Diet—even if you've never been able to succeed on a diet before Exercise Your Pain Away—even if you dislike traditional exercise, or if your pain makes movement difficult Stop the Stress-Pain Connection—even if you're overworked and easily stressed Improve the Quality of Your Sleep—even if you suffer from insomnia or other sleep conditions Those who have followed Dr. McIlwain's program have been able to resume the activities they love and transform their lives in as few as 21 days—now you can too.
You do not always need drugs to dull your pain. There are snacks that can save you from sickness. Learn more in this video from Dr. Oz.



Continue Learning about Pain Treatment