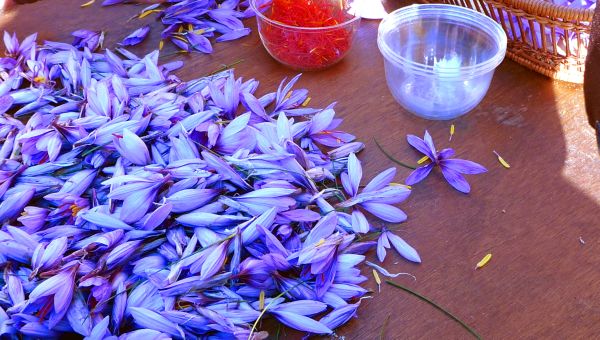 The Pain-Fighting Power of Saffron
Did you know it takes 70,000 to 250,000 purple saffron crocuses to make one pound of the amber-red seasoning (it's made from dried stigma, the part of the flower where pollen germinates)? No wonder it costs $75 or more an ounce.
But its delicate flavor, wonderful color and nutritional payload (vitamin B
2
, flavonoids) turn out to be only part of its powers: A study reveals that taking the spice is a more effective way to prevent and control post-exercise pain than taking an anti-inflammatory pain reliever called indomethacin; it's an
NSAID
like ibuprofen.
Researchers had a group of inactive 18-year-olds go through a series of strenuous exercises: Those who took the powdered saffron (300mg daily for one week before and for three days after working out) were pain-free for 72 hours after exercising; those who took the NSAID had minor pain 24 hours later; and those who took neither had severe muscle pain for three days afterwards.
So the next time you're getting ready to take a hike, join a charity walk-a-thon, do a fun-run or are just looking for a flavor treat, cook up some paella, vegetable soup or Moroccan seafood stew and add some saffron. Luckily it takes just a pinch to impart its flavor and goodness.

Pain treatment varies depending on the severity of an injury or cause of the pain. Analgesics, or pain relievers, may be your first step. Over-the-counter painkillers like ibuprofen and aspirin can treat mild to moderate pain. Str...
onger pain medication may be prescribed after surgery or more severe injuries. For chronic pain that persists, your doctor can help determine the best course of treatment or give you a referral for a pain specialist. Learn more about treating pain with expert advice from Sharecare.
More