Do women feel pain more than men?
There is some new information that women may actually feel pain more often, or it may feel more severe with aging. Researchers have found that women may interpret pain in a different way and that the additional anxiety that accompanies pain may affect how women interpret the overall pain. This doesn't change how pain is treated. But it does indicate that everyone with pain should be aware of corresponding problems, such as anxiety, insomnia, or depression, which can be specifically treated to give even better improvement in alleviating the pain and discomfort.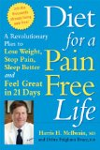 Continue Learning about Pain
Pain is your body telling you that you have hurt it. This is a good thing, important when you are injured. It can also help diagnose problems with your body. Sometimes pain continues long after it's necessary. Amputees report phan...
tom pain in the legs or arms they no longer have. There are different kinds of pain, and describing the type is useful in diagnosis: recurring, constant, steady, knife-like, radiating, sharp, dull. Medicines that dull pain are analgesics. Those that kill all feeling are anesthetics.
More