How can a depressed shoulder cause pain?
One of the biggest culprits causing shoulder pain is a shoulder blade (scapula) that sits too low on the trunk (depressed shoulder). When this happens, the scapula has a difficult time elevating because it must climb out of the hole it started in. It also won't rotate or abduct properly.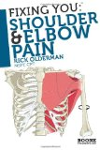 Continue Learning about Pain
Pain is your body telling you that you have hurt it. This is a good thing, important when you are injured. It can also help diagnose problems with your body. Sometimes pain continues long after it's necessary. Amputees report phan...
tom pain in the legs or arms they no longer have. There are different kinds of pain, and describing the type is useful in diagnosis: recurring, constant, steady, knife-like, radiating, sharp, dull. Medicines that dull pain are analgesics. Those that kill all feeling are anesthetics.
More