Acute pain comes on suddenly and can be severe. For instance, if you live with constant back pain, you know how quickly your back can ache after you bend down to pick up a heavy package.
Findings show that more than 70 percent of Americans have acute pain from headache at some time each year; over 50 percent have backaches. Yet, in more than 80 percent of cases, acute pain goes away in about two weeks; it runs its course and disappears as the problem is relieved.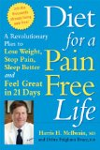 Acute pain is important because it brings to our attention a problem that might cause damage to the body. Acute pain could be a toothache from a cavity in a tooth. It may be a broken bone, a headache from a sinus infection or a backache from a strain. Muscle pains, joint pain and pain in the stomach could all be acute signals to warn us of a potential problem. Some injuries can cause acute pain, such as with bursitis and tendinitis. Each of these types of acute pain "runs its course" and disappears as the problem is relieved.
Researchers consider acute pain that lasts from one month to six months longer than expected to be chronic, but this time can vary depending on the problem that causes the pain. For example, if a back injury causes acute pain, but after three months the pain is no better, then it is called chronic back pain. Pain that returns over and over for months or years can be considered chronic.
Acute pain comes from something that has just happened. An example of an acute pain is pulling or straining a muscle for the first time. Pain comes on rapidly and usually is sharp in nature.

Acute pain generally resolves quickly once the injury has healed and can usually go away with rest and inactivity. If acute pain does not resolve relatively quickly, it can turn into chronic pain.

(This answer provided for NATA by the Gustavus Adolphus College Athletic Training Education Program.)
Acute pain is something used to describe a sharp pain that comes on suddenly. From a dental perspective, acute pain can refer to the pain you might feel if you suffer from an abscess, an infection caused by tooth decay, periodontal disease or a cracked tooth. If you feel acute pain in your mouth, contact your dental office immediately to see if they can schedule an emergency appointment. If the dental office is not open, please consult a physician.
Continue Learning about Pain