Respect pain. Pain is your body's warning signal that it is time to stop, slow down, or readjust how you are performing a task. When you feel pain, stop what you're doing. Assess the pain before you continue the exercise or activity. Listen to your body and don't ignore the signals it gives you.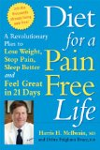 Joint pain is a sign that something is not right. Muscle imbalances can cause altered arthrokinematics (joint motion). This puts extra pressure on joints causing strain to the muscles, ligaments and tendons. You should consult with a doctor or physical therapist to keep the joint pain from getting worse. A fitness professional can do a movement assessment to determine muscles that need to be stretched and strengthened to prevent muscles imbalances prior to starting an exercise program.
If you feel pain in a joint while exercising, take a short break. Be sure to emphasize stretching and strengthening the muscles around the painful joint(s), but remember that the entire body is connected, and you should exercise all your muscles for optimal benefit - and also to help protect against developing pain in other joints in the future. It's okay to work through muscle pain, but never through joint pain. If you are unsure whether or not pain is muscular or from the joint, stop and ask your doctor. She may suggest you take a mild over-the-counter pain medication prior to exercise. Always talk to your physician before taking medication, because you don't want to mask increasing joint pain.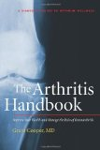 If you feel pain while exercising stop and seek professional advice. Note when, where and how the pain started and what you were doing. This will help the physician make a proper diagnosis. I often times tell my clients or athletes to write down what is happening and what questions you may have so when you do see a physician your mind does not go blank and walk out of the office without the proper information.
Now if you are having soreness that may be something a little different. Stop and ask yourself did I warm-up properly, was I performing the exercise correctly, or was I using too much weight. Seek help from an athletic trainer, physical therapist, or other professional that will be able to perform an assessment on you to get you going in the right direction.
If you have pain in a joint during exercise you should stop that movement and consult your physician to determine if an injury has occurred to a muscle or soft tissue in that joint. If the pain persists after stopping exercise or occurs every time you work out, that is seeing that there may be an underlying issue that should be examined by your healthcare provider.

Continue Learning about Pain Conditions