Ovarian cancer can be treated with an oophorectomy (the surgical removal of one or both ovaries). Removing both ovaries will, however, induce immediate menopause. As a result, your estrogen levels will drop, which can lead to the vagina becoming very dry and thin. Removal of the ovaries can also lead to infertility, though if only one ovary is removed, fertility can still be preserved.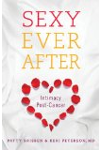 More About this Book
Sexy Ever After: Intimacy Post-Cancer
Recent studies show that 40-100 percent of men and women who have been treated for cancer have experienced some level of sexual dysfunction. Sexy Ever After: Intimacy Post-Cancer will help you...
Continue Learning about Ovarian Cancer