Symptoms of ovarian cancer are hard for patients to detect. In this video, Nimesh Nagarsheth, MD, a gynecolgic oncologist at The Mount Sinai Medical Center, explains what symptoms exists and why they are hard to spot.
Symptoms of ovarian cancer include:
bloating
pain in the belly
feeling tired
feeling the need to pee all the time
Symptoms of ovarian cancer can be vague and not always gynecologic, such as:
a swollen or bloated abdomen or increased girth (some women notice that their pants are getting tight around the waist)
persistent pressure or pain in the abdomen or pelvis
difficulty eating or feeling full quickly
urinary concerns, such as urgency or frequency
change in bowel habits with constipation and/or diarrhea
Any woman may have these symptoms for reasons not related to ovarian cancer. But if these symptoms are new and unusual, and persist for more than two weeks, a woman should see her doctor and ask about ovarian cancer.
The following are symptoms of ovarian cancer:
Vague but persistent and unexplained gastrointestinal complaints such as gas, nausea and indigestion
Pelvic or abdominal pain (the area below your stomach and between your hip bones)
Backache
Bloating
Feeling full quickly while eating
Unexplained weight loss or weight gain
Unexplained changes in bowel habits
Frequency and/or urgency of urination
Vaginal bleeding or abnormal discharge from your vagina
Fatigue
These symptoms may be caused by something other than cancer, but the only way to know is to see a doctor. The earlier ovarian cancer is found and treated, the more likely treatment will be effective.
The symptoms of ovarian cancer are often quite vague. That's why a woman with this malignancy may perceive that something is not right, but have trouble pinpointing exactly what is going on inside of her.
There are a multitude of different symptoms that may occur in the early course of ovarian cancer making it hard to focus on any one single warning sign. The most frequent complaint is bloating coupled with a sense of fullness. This is caused by fluid accumulation from the cancerous process. The next most common complaint may be a gastrointestinal change like constipation, diarrhea, or early satiety (a sense not wanting to eat more after just a few bites of food). And of course there can be less common findings like bleeding abnormalities, pain, shortness of breath, or weight loss.
The contents of this website are for informational purposes only and are not intended to be a substitute for professional medical advice, diagnosis, or treatment. Nor does the contents of this website constitute the establishment of a physician patient or therapeutic relationship. Always seek the advice of your physician or other qualified health provider with any questions you may have regarding a medical condition.
The signs of ovarian cancer may be different for each woman and any one of these symptoms may be caused by other, benign conditions. Because of the ovaries' proximity to the bladder and the intestines, gastrointestinal symptoms often occur.
When present, common symptoms of ovarian cancer may include:
Persistent abdominal bloating, indigestion or nausea
Changes in appetite – often a loss of appetite, or feeling full sooner
Feelings of pressure in the pelvis or lower back
Needing to urinate more frequently
Changes in bowel movements
Increased abdominal girth
Feeling tired or low energy
Awareness of how your body normally feels and paying attention to symptoms that persist for several weeks can help guide your decision to see a doctor. Many signs of ovarian cancer, like abdominal bloating, may suggest a gastrointestinal issue. Talk with your doctor about ovarian cancer being part of the problem.
NOTE: These symptoms may be attributed to a number of conditions other than cancer. It is important to consult with a medical professional for an accurate diagnosis.
Unfortunately, symptoms of ovarian cancer are often vague in nature and tend to appear later, when an ovarian cancer is more advanced. These include abdominal distention, swelling and bloating; nausea, anorexia, early satiety or feeling full early after meals; dyspnea, due to buildup of ascites (abdominal fluid) and/or pleural effusions. In addition, urinary urgency or frequency may occur if there is disease near the urinary system. Clinical research is being done to try to identify these symptoms earlier in patients so that ovarian cancer can be detected and diagnosed at earlier stages to increase the rate of cure.
Often there are no symptoms of ovarian cancer, especially in the early stages. Some symptoms include abnormal vaginal bleeding, pain with intercourse, an abdominal mass, abdominal pain, pelvic pain, urinary symptoms of frequency and urgency, difficulty eating, early fullness, fatigue, back pain, constipation, and blood clots in one or both legs.
Unfortunately, the symptoms and signs of ovarian cancer often develop only after the cancer has begun to spread. The symptoms (complaints a patient has) are often vague. They include increasing abdominal girth, stomach or intestinal complaints (difficulty digesting, heartburn, bowel changes such as constipation,) or bloating.
The signs (findings that a healthcare provider will detect) are often similarly late in the disease process; these include a pelvic or abdominal mass or excess fluid in the abdomen or pelvis. Sometimes, the tumor is first detected on ultrasound (sonogram) or other imaging studies.
Ovarian cancer typically appears in the outer lining of the ovaries. Symptoms to look out for include indigestion, flatulence, nausea or vomiting, abdominal discomfort or pain, swelling, or bloating, diarrhea, constipation, loss of appetite, unexplained weight loss, frequent urination, abnormal bleeding from the vagina, and shortness of breath.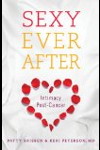 More About this Book
Sexy Ever After: Intimacy Post-Cancer
Recent studies show that 40-100 percent of men and women who have been treated for cancer have experienced some level of sexual dysfunction. Sexy Ever After: Intimacy Post-Cancer will help you reinvigorate your sex life after a cancer diagnosis and/or treatment by helping you redefine sex. Finally, the millions of men and women have been searching for answers and information about their post-cancer love lives (as well as their partners) have a resource. "Sexy Ever After: Intimacy Post-Cancer" will help you reinvigorate your sex life after a cancer diagnosis and/or treatment by helping you redefine sex. ABOUT THE AUTHORS:Patty Brisben is the CEO and founder of Pure Romance™, the nation's fastest-growing in-home direct sales company specializing in relationship enhancement products, intimacy education, and sexual health awareness. With over twenty-five years of experience working with women, she now leads tens of thousands of consultants who are touching the lives of women and couples nationwide. Through Pure Romance's Sexual Health Education Department, Patty assists women in recapturing their sensual and sexual selves following cancer diagnosis and treatment. In 2006 Patty created the Patty Brisben Foundation for Women's Sexual Health, which serves to strengthen, support, and enhance health services provided for women through education, research, and community outreach. Her notable work has put her in the national spotlight, with appearances on "The View" and CNN amongst others and profiles in leading business publications, including Forbes and Entrepreneur.Dr. Keri Peterson obtained her bachelor degree from Cornell University and received her medical degree from Mount Sinai School of Medicine. She completed post-graduate training in Internal Medicine at Mount Sinai Medical Center in New York City and is board certified in Internal Medicine. Dr. Peterson has been in private practice with a prominent medical group on the Upper East Side of Manhattan since 1999. She holds appointments at Lenox Hill Hospital and Mount Sinai Medical Center. She is a member of the American College of Physicians and the American Medical Association. With a demonstrated commitment to the advancement of medicine, Dr. Peterson has several publications in leading medical and scientific journals and has presented at distinguished medical symposiums. Dr. Peterson is a medical contributor and columnist for Women's Health Magazine and also appears frequently on the TODAY Show amongst others.
Some women describe ovarian cancer symptoms as similar to normal menstrual symptoms. Sometimes there is pain or increased frequency of urination. The symptoms can be pretty vague, which is what makes ovarian cancer a difficult cancer to detect early.
Watch as women's health expert and advocate Dr. Donnica Moore shares the symptoms that are most strongly associated with ovarian cancer.
Many ovarian cancer symptoms are vague or hard to detect and may be attributed to a less serious condition. Symptoms include:
Back pain
Fatigue
Abnormal bloating or a feeling of fullness
Abdominal pain or swelling
Nausea, constipation, or diarrhea
Urinary urgency
Pelvic pressure
Abnormal vaginal bleeding
Loss of appetite
Unexplained weight loss or gain
Symptoms of ovarian cancer are vague and don't always point to the reproductive organs. Women may tend to see a variety of doctors like a gastroenterologist or urologist before they visit their gynecologist. These specialists will usually not perfom the necessary exams like a pelvic exam delaying the diagnosis of ovarian cancer.
THINK OVARIAN CANCER:
Abdominal bloating: "My pants or skirt are too tight!" "I can't eat as much!"
Pesistent pain in the abdomen or pelvis
Changes in bowel habits: constipation or diarrhea
Changes in urinary habits: feeling of urgency or frequency
Vaginal bleeding: unexplained and lasting over two weeks
Ovarian cancer is the most lethal of the gynecologic cancers because it often goes undetected due to lack of symptoms. When symptoms do occur, they are often in the form of vague complaints associated with other minor disorders and are often overlooked. Major cancer organizations agree that the four most common EARLY warning signs of ovarian cancer are:
Abdominal bloating, noticeable increase in abdominal girth
Pelvic or abdominal pain
Difficulty eating or feeling full quickly
Urinary symptoms such as urgency or frequency
If any of these warning signs persist for more than a couple of weeks, it is important to seek medical care.
Because of the vagueness of these symptoms, ovarian cancer used to be called "the silent killer." As we learn more about early warning signs, we now say "ovarian cancer whispers—listen!"
Ovarian cancer, a leading cause of death for women, often has no symptoms. In this video, Dr. Oz Show guest Sharyn Lewin reveals ways to reduce the risk of ovarian cancer.

The symptoms of ovarian cancer include pelvic discomfort, bloating, constipation, gas, nausea, lower back pain, fatigue, and pain while engaging in intercourse. You may have difficulty reaching the bathroom in time or you may notice differences in your menstrual cycle. You may also notice that your abdomen is larger and that your pants no longer fit.
Early-stage ovarian cancer rarely causes any symptoms. Advance stage cancer can give you many non-specific symptoms: Abdominal bloating or swelling, weight loss or discomfort in the pelvis area.
Ovarian cancer may cause several signs and symptoms. Women are more likely to have symptoms if the disease has spread beyond the ovaries, but even early stage ovarian cancer can cause them. The most common symptoms include:
Bloating
Pelvic or abdominal pain
Trouble eating or feeling full quickly
Urinary symptoms such as urgency (always feeling like you have to go) or frequency (having to go often)
Other symptoms of ovarian cancer can include:
Fatigue
Upset stomach
Back pain
Pain during sex
Constipation
Menstrual changes
Ovarian cancer unfortunately has no definitive symptom. This is the reason why the majority of patients present in advanced stage. Subtle symptoms can be bloating, early satiety, and increase in waist size, pencil-like stools, and even nausea and vomiting. Screening tests for ovarian cancer are currently at best poor. Most studies have centered around ultrasound and a blood test known as CA125. Unfortunately, no study has proven that these are "good" tests in the general population.
Common symptoms of ovarian cancer include: appetite change, weight loss, and abdominal bloating/distention.
Watch as gynecologic oncologist Dr. Barbara Goff discusses the symptoms of ovarian cancer.
Continue Learning about Ovarian Cancer