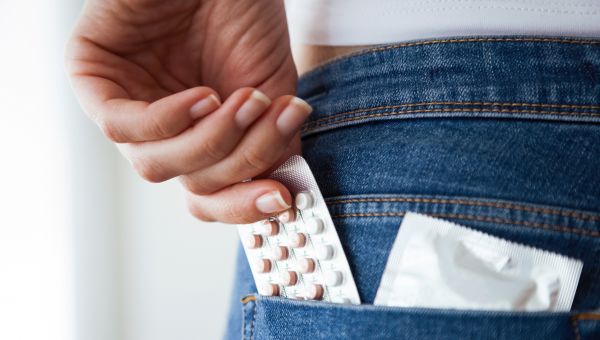 Discover expert advice on how to avoid a cancer diagnosis.
Approximately 22,000 U.S. women are diagnosed with ovarian cancer each year. But it's possible to lower your odds of a diagnosis by making certain lifestyle choices. Melodi Reese-Holley, MD, an OBGYN at Omega Obstetrics and Gynecology, affiliated with Medical City Arlington in Grand Prairie, Texas, offers science-backed ways to reduce your risk.
Know your birth control options
Women who take birth control pills are less likely to develop ovarian cancer. In fact, staying on a contraceptive pill for at least five years may cut your risk by up to 50 percent, according to the American Cancer Society.
Birth control methods that decrease your total number of periods may be especially protective.
"When you ovulate, it causes minor trauma to the surface of your ovaries," explains Dr. Reese-Holley. "Some sources [like researchers at The University of Texas School of Public Health] suggest the inflammation and repair process that follows could lead to the development of cancer. That means birth control not only protects against unintended pregnancy, but also against this trauma, which could cause ovarian cancer down the road."
The benefit occurs after about three to six months of use, and continues even after you stop using birth control, she adds. Be aware that birth control comes with possible side effects, and it may not be right for everyone. Have a thoughtful discussion with your OBGYN about the pros and cons of each family planning method before deciding which one to pursue.
Don't use tobacco products
Tobacco is linked to a particular type of ovarian cancer, along with many other women's health conditions, says Reese-Holley. For example, it's associated with lung, breast and cervical cancers, osteoporosis and heart disease, to name a few. When you consider all of the conditions it's a risk factor for, tobacco is the number one cause of premature death for women in the United States.
For help quitting tobacco, visit Sharecare's Quit Smoking page. You can also call the National Tobacco Cessation Line at 1-800-QUIT-NOW, which is available 24-hours a day and can connect you with additional resources and support in your area.
Don't put baby powder on feminine products
Talc, a mineral found in talcum and baby powders, has stirred controversy over its possible link to ovarian cancer. Even though baby powders are typically labeled, "for external use only," women often sprinkle it onto their panties and feminine pads, or apply it directly to their skin. It absorbs moisture and has a pleasant scent, which helps them feel fresh.
Some talc products naturally contain asbestos, which is a known cancer-causing substance. Since the 1970s, asbestos has been removed from all talc products on the U.S. market. Even so, research is mixed on whether asbestos-free products still pose a cancer risk.
"Some studies suggest that there could be an increased association between the development of epithelial ovarian cancers when talc products are applied directly to the genital area," says Reese-Holley. Other studies have not found an association.
Any possible danger from talc-based products is likely small, but the American Cancer Society recommends limiting your use if you're concerned until more research is available.
Stick to a healthy weight
"Not only does obesity increase your risk of heart disease, diabetes and high blood pressure, it can have large effects on your menstrual cycle, which is often underestimated by many people" says Reese-Holley.
Your ovaries normally produce the two primary female hormones, estrogen and progesterone, but fat cells can also produce them. "That extra estrogen can potentially increase stimulation of various organs and can increase your risks of developing cancers, such as ovarian, endometrial cancers and breast cancer. It could also lead to irregularities in your menstrual cycle and significantly heavier periods," she explains.
Read about how to start losing weight safely and get expert answers to your weight loss questions.
Consider breastfeeding
Women who breastfeed may be less susceptible to both ovarian and breast cancers. "Many studies support a decreased risk with breastfeeding," says Reese-Holley. "The degree of protection is actually proportional to how long you're able to breastfeed. Women who make it to a year or longer experience the largest benefit."
That amount of time is cumulative, so if you have multiple pregnancies, you can add up the number of months you breastfed in total. Getting pregnant before age 26 may protect against ovarian cancer as well. Why? Some experts believe having fewer periods overall means fewer cycles of inflammation for your ovaries, and therefore a lower cancer risk.
To learn more, read about the signs of ovarian cancer.
Medically reviewed in December 2018.