What should I do if I miss a dose of ciprofloxacin-dexamethasone?
If you miss a dose, just use ciprofloxacin-dexamethasone (Ciprodex) as soon as you remember. If it is close to the next dose, just wait and take your next dose, but do not use extra drops to compensate for the missed dose.

If you miss two or more doses in a row, call your doctor or pharmacist.


Continue Learning about Otic Agent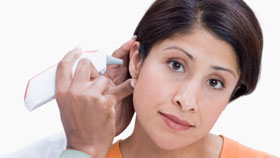 Otic drugs are medications for the treatment of ear disorders, infections and diseases. Learn more about otic drugs from our experts.