Some people liken the human body to a car engine. It takes in fuel, uses water, makes odd noises, and pollutes the environment with waste. But I tend to think of the human body as a home-as your home. When you think about the similarities between bodies and homes, the two have many striking things in common. Your house and body are both important investments. They both provide shelter to invaluable personal property. And they're both places you want to protect with all your power. That's the big picture.

Internally, your bones are the 2-by-4s that support and protect the inner structure of your home. Your eyes are the windows. Your lungs are the ventilation ducts. Your brain is the fuse box. Your intestines are the plumbing system. Your mouth is the garbage disposal. Your heart is the water main. Your hair is the lawn (some of us have more grass than others). And your fat is all the unnecessary junk you've stored in the attic that your spouse has been nagging you to get rid of. Of course, your forehead probably doesn't have a street number, and a two-story brick Colonial doesn't look all that good in a bathing suit.

The same analogy applies when it comes to preventing problems and keeping your house in good shape. In fact, most smart people take the same approach to basic body maintenance and home repairs. You don't call the plumber if you have a little back-up in your pipes. You try a plunger, lift the back off the toilet, fiddle with the floating ball, and try to remedy the problem yourself. You don't call the exterminator when you spot a fly in the kitchen. You don't call the electrician if a light bulb burns out. And you don't call the painter if junior decides to play Picasso on your living room wall.

You rely on yourself to maintain control over how your house ages-because you know it's less expensive to prevent problems and treat minor ones than to let everything deteriorate to the point where your house needs a major overhaul to function properly.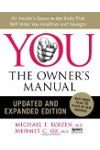 Continue Learning about Other Health Topics