In our hustle-and-bustle world, it is common to feel stressed and endlessly tired -- even exhausted. In this video, Dr. Oz guest Dr. Tanya Altmann talks about the many causes of constant fatigue.
Pretty simple explanation. Your precious cells aren't getting enough fuel. They're literally being strangled. They're gasping for breath. If you've ever climbed to the top of a tall mountain, you know what I'm talking about. You can barely breathe, let alone carry on a conversation because your body isn't getting enough oxygen. That's how your cells are forced to operate pretty much every day. If they could talk, they'd be screaming "H-E-L-P." Look at it like this. If you were getting only one out of every five hours of sleep you needed, you probably wouldn't feel very good nor would you be working at maximum capacity.
Likewise, your cells aren't feeling very good. Here they've got all these important responsibilities and they can't even get enough fuel to operate at maximum efficiency. They're operating on one of six cogs at best. It's like running a million-dollar Indy car on cheap gas. You were given a miraculous body. What a pity to feed it inferior fuel. When our cells don't get the oxygen they need, several disastrous things happen. Perhaps the worst is they get loaded down with toxins. They get gunked up with all sorts of awful things that not only slow down digestion but can eventually cause cancer, heart disease, and other things I 'm sure you'd rather not talk about.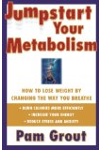 Continue Learning about Other Health Topics