More than 95% of the potassium in the body is found within cells. In contrast, most of the sodium in the body is located outside the cells in the blood and other fluids. How does this happen? Cells actually pump sodium out and potassium in via the "sodium-potassium pump." This pump is found in the membranes of all cells in the body. One of its most important functions is preventing the swelling of cells. If sodium is not pumped out, water accumulates within the cell, causing it to swell and ultimately burst.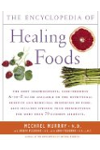 More About this Book
Encyclopedia of Healing Foods
From the bestselling authors of The Encyclopedia of Natural Medicine, the most comprehensive and practical guide available to the nutritional benefits and medicinal properties of virtually everything...
Continue Learning about Other Health Topics