The treatment for osteoporosis consists of diet, exercise, and sometimes medication. In the recent past, estrogen treatment was considered a primary therapy for postmenopausal osteoporosis. At the time, health providers thought that estrogen also had the advantage of treating other problems associated with menopause and preventing or delaying cardiovascular disease. However, data from the Women's Health Initiative has shown that estrogen-progestin therapy does not reduce the risk of coronary heart disease and increases the risk of breast cancer, stroke, and blood clots.
As a result of the Women's Health Initiative findings, other medications are now preferred and are prescribed more frequently for treatment of postmenopausal osteoporosis. The medications most frequently used now are bisphosphonates alendronate (brand name Fosamax) or risedronate (Actonel) and a selective estrogen receptor modulator (SERM) called raloxifene (Evista).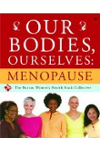 More About this Book
Our Bodies, Ourselves: Menopause
FROM THE EDITORS OF THE CLASSIC "BIBLE OF WOMEN'S HEALTH," A TRUSTWORTHY, UP-TO-DATE GUIDE TO HELP EVERY WOMAN NAVIGATE THE MENOPAUSE TRANSITION For decades, millions of women have relied on Our...
Continue Learning about Osteoporosis Treatment