Yes. Changing those risk factors over which you have control is one important key to stopping this disease. Bear in mind: No matter how quickly you begin making lifestyle changes to reduce these risk factors, there is no quick fix for bone loss. Nevertheless, positive choices can affect your present and future health and can reverse or halt osteoporosis. It is important to weigh the advantages of medication to build bone and to begin a lifelong program to improve bone strength.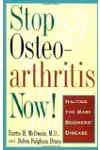 Weight bearing exercise, calcium and vitamin D, and postmenpausal hormones slow down or prevent osteoporosis. Once the bone have actually weakened to the point of osteoporosis, however, other treatments are more effective in reversing the disease.
There are several different groups of medications that reverse osteoporosis. The first choice is a group called bisphosphinates. These include alendronate (Fossamax) and ibandronate (Boniva) among several others. There are special instructions on how to take these medications that are very important to follow in order to get the best outcome and prevent gastrointestinal side effects. They are given as pills on a daily, weekly, or monthly schedule. One bisphosphinate, Reclast, is given as an IV once every year.
Denosumab (Prolia) is an injection that is given every 6 months. It works in a slightly different way than the bisphosphinates. It is new and so far it seems to have fewer gastrointestinal side effects than bisphosphonates. Individuals using this medication must also take calcium and Vit D supplements.
Another type of medication that reverses osteoporosis, usually for people who can't tolerate side effects from the bisphosphinates, or people whose bones don't improve with the bisphosphinates is teriparatide (Forteo). This is given as a daily injection.
Calcitonin reverses osteoporosis, but is less effective than previous treatments. It is used for individuals who can't tolerate any of the previous medications.
Continue Learning about Osteoporosis Treatment