Osteoporosis can be prevented with adequate intake of calcium—about 1200 milligrams (mg) daily from both food and supplement sources—and about 1000 to 4000 International Units (IU) of calcium daily. Patients should always discuss appropriate dosing with their healthcare provider before starting any supplement. Along with supplements, getting regular exercise, both aerobic (like walking) and weight bearing (like yoga or weight training) will also help to keep bones strong.
You start losing bone around age 30; that's why it's important for women of all ages and races to strengthen bone mass with weight-bearing exercise like walking, running and weightlifting and through a diet rich in calcium, phosphorous and vitamin D. For most African American women who don't get enough calcium in their diets, I recommend taking a multivitamin that includes calcium, iron and antioxidants. If you are taking calcium supplements, your body makes better use of the calcium when you take it with protein in the same meal.
How much calcium is enough? The Recommended Dietary Allowance (RDA) is 800 milligrams per day for women under 50 (premenopausal) and 1,000 milligrams and 1,500 milligrams for women 50 and older. But I recommend (as does the medical community) 1,200 milligrams and 1,500 milligrams, respectively. Nonfat milk or soy milk fortified with calcium and vitamin D are good sources of these nutrients (vitamin D is essential for transporting calcium into the bones). In addition to soy milk, many other soy foods are also rich in calcium. One cup of cooked soybeans contains roughly 12 percent of your daily allowance for calcium.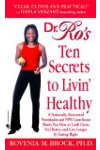 More About this Book
Dr. Ro's Ten Secrets to Livin' Healthy
In this one-of-a-kind book, Dr. Rovenia M. Brock—known as Dr. Ro™ to fans of Black Entertainment Television's Heart & Soul—reveals practical, satisfying ways for African American women to eat...
The rapid decline of estrogen at menopause escalates the natural bone thinning that occurs as we grow older and increases our risk of developing osteoporosis. In addition to engaging in regular, weight-bearing exercise, there are several dietary guidelines we can follow to help minimize bone loss. These include:
Consume enough calcium. Foods high in calcium include milk, cheese and other dairy products; dark leafy greens; beans; and foods such as orange juice that are fortified with calcium.
Get adequate vitamin D, either through your diet, exposure to sunshine or supplements.
Get enough vitamin K. Foods high in vitamin K include broccoli, Brussels sprouts, dark green lettuce, collard greens and kale. Vitamin K is also made by the bacteria that line the gastrointestinal tract.
Get vitamin A in your diet but don't consume too much.
Avoid eating substantial amounts of protein every day. When you eat protein, your body releases acids into the bloodstream, which are then neutralized by drawing calcium from your bones. Protein from meats and animal products seems to pull more calcium from the bones than protein from vegetables and legumes.
Although you cannot change risk factors such as your age, gender, race and family history of the disease, you can change crucial ones that will prevent bone loss or stop additional bone loss. They are as follows:
Low calcium intake
A lack of regular exercise
Excessive exercise
Being underweight
Smoking
Drinking alcohol heavily
Using certain medications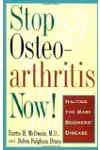 The following list suggests ways to help minimize your risk of developing osteoporosis:
Stop smoking.
Drink little or no alcohol.
Include healthy behaviors into your lifestyle.
Maintain a healthy weight and improve your muscle strength and bone density.
Include calcium in your diet.
Include vitamin D in your diet.
Evaluate your risk for falls.
Talk with your doctor about medications that can help decrease bone loss.
Discuss alternative therapies with your healthcare team.
Continue Learning about Osteoporosis Prevention