Osteoarthritis (OA) - the "wear-and-tear" arthritis - is the most common type of arthritis. It affects more than 15 million women. In fact, while women account for about 65 percent of all arthritis cases, they account for 74 percent of osteoarthritis cases.
Using the World Health Organization (WHO) definition of osteoporosis, the most conservative estimate is that about 20 percent of postmenopausal women have osteoporosis. Some researchers estimate the number as closer to 50 percent.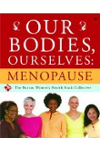 More About this Book
Our Bodies, Ourselves: Menopause
FROM THE EDITORS OF THE CLASSIC "BIBLE OF WOMEN'S HEALTH," A TRUSTWORTHY, UP-TO-DATE GUIDE TO HELP EVERY WOMAN NAVIGATE THE MENOPAUSE TRANSITION For decades, millions of women have relied on Our...
One estimate is that approximately 15% of all white women in the United States who are age 50 or over have bone density values indicating "probable osteoporosis." Approximately 6% of all African-American women in the United States who are age 50 or older also fall into this category.
Continue Learning about Osteoporosis Causes & Risks