The most likely explanation is osteoarthritis.
This is also called degenerative joint disease. It is a "wear-and-tear" type of arthritis. It is increasingly common with advancing age. More than half of people age 65 and older have osteoarthritis in one or more joints. Injury and family history are also major risk factors.
The most commonly affected sites are the fingers (especially the thumbs), toes, neck, lower back, hips and knees.
I'm suggesting osteoarthritis is the most likely cause not just because it's common and often affects the thumb joints. It's also because of your description of a "hard growth." A characteristic feature of osteoarthritis is an "osteophyte." This is a growth of extra bone near the joint. If you had x-rays performed, your doctor would probably see an osteophyte near one or more joints of your thumb. This is very different than the soft, spongy swelling seen in other types of joint disease, such as rheumatoid arthritis.
There are other possible causes of your thumb pain. For example, tendon inflammation (tendonitis) and ligament injuries are also common causes of thumb pain. But from your description of symptoms, osteoarthritis seems most likely.
Usually, doctors can make a diagnosis after a thorough review of your symptoms, a physical examination and, perhaps, x-rays.
There is no cure for osteoarthritis, but symptoms can usually be controlled with a combination of the following:
Anti-inflammatory and pain medications
Splinting
Occupational therapy
In select cases, and as a last resort, surgery may be an option.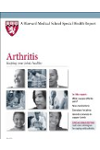 Continue Learning about Osteoarthritis