Foot surgery for osteoarthritis is often considered if the pain from osteoarthritis gets to the point where it is significantly interfering with your ability to conduct daily activities. Osteoarthritis is a progressive disease that affects all people differently. Initially you may be fine with braces, physical therapy and anti-inflammatories.
Jeffrey Silverstein, MD discusses when foot surgery for osteoarthritis becomes necessary. Watch this video to learn more.
Learn about osteoarthritis and when surgery may be required for it. Watch this video with Paul Switaj, MD from Reston Hospital Center.
If your arthritis pain can't be alleviated, surgery to repair or replace damaged joints in the foot may be necessary. You may have osteoarthritis of the foot that shows up in an x-ray and not have any pain or other symptoms. If so, that's fine. On the other hand, your x-ray may reveal little in the way of structural damage even if you are having pain severe enough to interfere with your ability to walk. If you have significant pain, see a foot care specialist. Treatment decisions are based on symptoms, not x-ray evidence.
Continue Learning about Osteoarthritis Treatment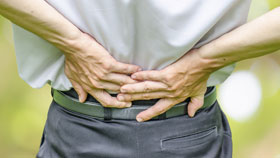 Osteoarthritis (OA) can be treated by managing the pain and stiffness with medications (topical pain relievers, injections and oral drugs or supplements) and regular exercise to build muscle and protect your joints. Other ways to ...
decrease pain and improve function include acupuncture, tai chi and yoga, weight loss, hyaluronic acid or corticosteroid injections, nonsteroidal anti-inflammatory drugs and braces or heel wedges.
More