There are many alternative treatments for osteoarthritis that can help decrease pain and stiffness. These alternative therapies include acupuncture, massage, chiropractic manipulation, a soak in hot tub, and alternating hot and cold compresses on the joint. Nutritional supplements such as glucosamine and chondroitin, and injections of visco-lubricants into the joints may help, but there is little scientific evidence backing their effectiveness. Talk to a doctor before using any alternative treatment.
Mainstream medicine offers a number of effective treatments for osteoarthritis. But the world of alternative medicine offers other approaches to treating the condition, ranging from A (acupuncture) to not-quite-Z (yoga). Others include:
Glucosamine, a substance derived from shellfish
Capsaicin cream, which contains a substance found in hot peppers
Ginger, yes, the same simple spice found in tea and crystallized candy
S-adenosylmethionine, or SAM-e, a dietary supplement that mimics a naturally occurring substance in the body
Tai chi, an ancient mind-body practice that's sometimes called "moving meditation"
Some people use other alternative therapies to treat their osteoarthritis. Some of these therapies have been well studied, but that's not the case for many others. For the most part, these treatments are best thought of as complementary medicine. In other words, they can't replace your standard medications and other treatments, but they may provide added relief of pain and other symptoms. Always tell your doctor if you decide to go out and try these or other alternative treatments for osteoarthritis.
Continue Learning about Osteoarthritis Treatment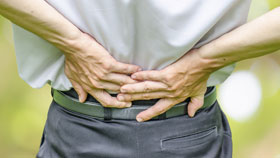 Osteoarthritis (OA) can be treated by managing the pain and stiffness with medications (topical pain relievers, injections and oral drugs or supplements) and regular exercise to build muscle and protect your joints. Other ways to ...
decrease pain and improve function include acupuncture, tai chi and yoga, weight loss, hyaluronic acid or corticosteroid injections, nonsteroidal anti-inflammatory drugs and braces or heel wedges.
More