Deaths from osteoarthritis and related conditions may be increasing. The U.S. Centers for Disease Control reports that from 1979 to 1998, deaths increased from 5,537 to 9,367. While the death rate in the U.S. was 2.46 per 100,000 people in 1979, the death rate was 3.48 per 100,000 in 1998.
Continue Learning about Osteoarthritis Causes and Risk Factors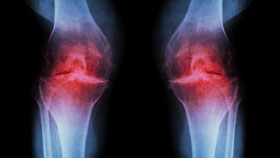 Osteoarthritis (OA) is usually caused by repetitive stress to the joint due to activities such as exercise or work. Damage to the cartilage can be the result of a previous injury, such as an dislocation or fracture. Age, heredity, ...
injury and infection are the most common causes of OA. Of all factors contributing to osteoarthritis, age is the most important one. Your doctor can evaluate for any structural abnormalities or family history that might increase your risk for osteoarthritis.
More