Your bone mineral density naturally decreases as you age, leading to gradual bone loss. If the bone loss is severe, you can develop osteoporosis, or bones that are thin and break easily. Although osteoporosis affects the bones, not the cartilage in the joints, people with osteoporosis are at somewhat greater risk of also developing osteoarthritis (OA). So to help prevent OA, do everything you can to keep your bones strong and prevent osteoporosis. That means performing weight-bearing exercises regularly, eating a diet that's rich in calcium and vitamin D, and not smoking.
Bone density is related to osteoarthritis in an interesting way. Contrary to popular belief, low bone density is not related to osteoarthritis, only to osteoporosis. Osteoarthritis is actually related to higher bone density. Increased bone density can result in bony outgrowths, also called osteophytes, or bone spurs. These can literally rip apart joint cartilage and decrease the ability of cartilage to protect the joint.

Continue Learning about Osteoarthritis Causes and Risk Factors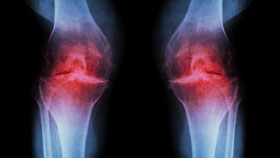 Osteoarthritis (OA) is usually caused by repetitive stress to the joint due to activities such as exercise or work. Damage to the cartilage can be the result of a previous injury, such as an dislocation or fracture. Age, heredity, ...
injury and infection are the most common causes of OA. Of all factors contributing to osteoarthritis, age is the most important one. Your doctor can evaluate for any structural abnormalities or family history that might increase your risk for osteoarthritis.
More