What is a clear plastic dental retainer?
A clear plastic retainer is one of several options for supporting and reinforcing tooth positions, often used subsequent to orthodontic treatment as a stabilizing device. It is fabricated from a cast of your mouth, obtained by making an impression of your teeth and mouth with an impression tray and impression material. The laboratory adapts a thin layer of clear plastic to the cast, which is then adapted to fit comfortably over your teeth in intimate contact with the front, back and biting surfaces of the teeth. The clear retainer should be serviceable for several years before needing replacement due to wear and/or attritional issues, and should be worn according to the instructions of your dentist.
A clear plastic dental retainer is a device that fits the top of the teeth and mouth. It is custom-made for each person and fitted by an orthodontist. A retainer is most often worn after getting braces taken off in order to keep the teeth straight and in position. Some people wear a retainer even if they did not have braces. In these cases, a retainer might be worn to improve speech, to close gaps in teeth, or to solve other medical problems.

Continue Learning about Orthodontics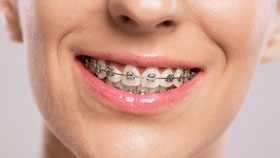 Orthodontics is a specialized branch of dentistry that focuses on the alignment of your teeth, which is generally done using braces and retainers. No matter your age, it's never too late to improve your dental health and improve y...
our smile.
More