Recommendations on how frequently you should see your orthodontist depend on the treatment. Sometimes it's important to monitor changes in the development of the teeth, bite, and face before starting active treatment and those visits may be from every 3-12 months apart. Some situations such as impacted teeth typically require adjustment visits every 4 weeks. Most treatments call for adjustments anywhere from every 1-3 months. It's important to follow the recommended schedule, however, since your orthodontist can only provide treatment when you come in for appointments.
The number of appointments and the time between the appointments needed to get straight teeth varies by the type of problem you have, the severity of that problem, and the technique your orthodontist is using to fix it. The frequency of visits usually ranges from 4 to 8 weeks although you may need to be seen weekly for some problems and only annually for follow up. Your orthodontist will let you know the best interval for your particular treatment. Good luck!
While you are having your crooked teeth treated, your orthodontist (a doctor who specializes in treating crooked teeth and misaligned bites) may schedule appointments every six months or more frequently to manage your progress. To treat and repair crooked teeth, you may wear braces, clear brackets, or aligners to correct crowding or spacing problems. Implants may also help with your treatment. How long your treatment takes depends on the severity of your crooked teeth, the position of your jaws, and how well you follow your treatment plan.
Continue Learning about Orthodontics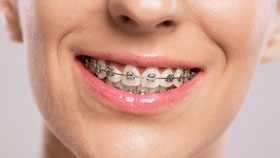 Orthodontics is a specialized branch of dentistry that focuses on the alignment of your teeth, which is generally done using braces and retainers. No matter your age, it's never too late to improve your dental health and improve y...
our smile.
More