Since abnormal bites usually become noticeable between the ages of 6 and 12, orthodontic treatment often begins between ages 8 and 14. Treatment that begins while a child is growing helps produce optimal results. That doesn't mean that adults can't have braces; healthy teeth can be orthodontically treated at any age.

Dentists, orthodontists, and the American Dental Association recommend that braces should not be started until the permanent teeth erupt (start coming in). This could happen anytime between 8 and 14 years of age. The majority of people who wear braces are children or adolescents in this age range. Starting braces early, while teeth are at an early stage of development, produces the best results. The first orthodontic consultation could happen at 7 years of age. Of course, people of any age can wear braces provided their teeth are healthy enough for braces. Only one of every five people who have braces are adults.
Continue Learning about Orthodontics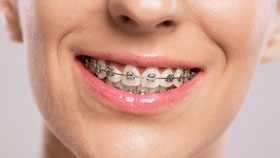 Orthodontics is a specialized branch of dentistry that focuses on the alignment of your teeth, which is generally done using braces and retainers. No matter your age, it's never too late to improve your dental health and improve y...
our smile.
More