Invisible braces, also known as lingual braces, are attached to the back of the teeth, so they won't be seen when your child smiles. Most people probably won't realize your child is wearing invisible braces. After the treatment is completed, your child should have straighter teeth, with the bite corrected and no gaps, similar to results of traditional metal braces.

Continue Learning about Orthodontics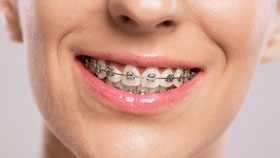 Orthodontics is a specialized branch of dentistry that focuses on the alignment of your teeth, which is generally done using braces and retainers. No matter your age, it's never too late to improve your dental health and improve y...
our smile.
More