You should not feel any pain with a wire dental retainer. If you feel pain from a sharp wire or piece of glue, you should call your orthodontist to get the retainer repositioned and reglued. In the meantime, you can put a piece of dental wax over the sharp area that is causing discomfort. If you don't have dental wax from the time you had braces, you can buy some at a drugstore. You can also try using tweezers to bend the wire back into place.

Continue Learning about Orthodontics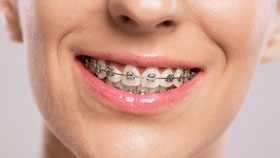 Orthodontics is a specialized branch of dentistry that focuses on the alignment of your teeth, which is generally done using braces and retainers. No matter your age, it's never too late to improve your dental health and improve y...
our smile.
More