How should I care for my clear plastic dental retainer?
You should care for your clear plastic dental retainer by cleaning it every day. Usually, you can soak a retainer in mouthwash or a denture-cleaning product to keep it fresh and free of germs. Check with your orthodontist to see how the retainer should be cleaned, since some types should not be cleaned with toothpaste.

When the retainer is not in your mouth, you should soak it to keep the plastic from drying out. Never put a retainer in hot water or leave it near a heat source, because the plastic can warp. Don't flip the retainer around in your mouth, as this can cause the wires to bend. Make sure you take special care of your retainer, as it can be expensive to replace.
Continue Learning about Orthodontics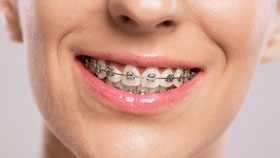 Orthodontics is a specialized branch of dentistry that focuses on the alignment of your teeth, which is generally done using braces and retainers. No matter your age, it's never too late to improve your dental health and improve y...
our smile.
More