The organ care system (OCS) is a groundbreaking experimental organ-preservation device that keeps donor hearts beating during transport. The portable device delivers warm, oxygen- and nutrient-rich blood to the donor heart and keeps it in a living state until the organ is ready to be transplanted.

This content originally appeared online at UCLA Health.
Continue Learning about Organ Transplants & Health Care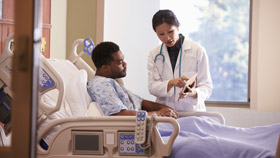 Organ transplants involve removing a diseased organ from an ill patient and replacing it with a healthy one from an altruistic deceased or living organ donor. To be eligible for an organ transplant, you must be evaluated by a medi...
cal team for suitability. If you decide to become an organ donor, it is important to inform your family and put those wishes in writing.
More