The organ care system (OCS) has many benefits. It allows surgeons to:
preserve more organs
travel farther distances to obtain organs
monitor the status of the organs from harvest to transplant
One of the limitations in organ transplantation is the donor pool, which, for decades, has been very still. Up to 60% of donor organs that are offered are not used. That is partly due to the distance need to travel to get the donor tissue, or the quality of the donor tissue. Because we don't have a good way of assessing organs, we often turn down marginal hearts. The OCS allows healthcare providers to monitor the donor organ and make sure it is viable. It helps them transport the organ longer distances and match it to a suitable recipient. Research has shown that the short-term outcomes for recipients of organs transported by OCS are similar to those who receive organs transported via cold storage.
This content originally appeared online at UCLA Health.
Continue Learning about Organ Transplants & Health Care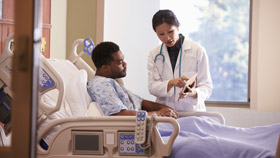 Organ transplants involve removing a diseased organ from an ill patient and replacing it with a healthy one from an altruistic deceased or living organ donor. To be eligible for an organ transplant, you must be evaluated by a medi...
cal team for suitability. If you decide to become an organ donor, it is important to inform your family and put those wishes in writing.
More