The waiting list for organs was 98,000, as of April 2008. More than half of the people on the transplant list in 2006 had to wait longer than a year for an organ.
Each organ has an individual waiting list - but they all share a common characteristic. There are fewer transplants available than organs needed.
On average, the organ waiting list grows by about 106 people each day, and 18 die each day while waiting.
Continue Learning about Organ Transplants & Health Care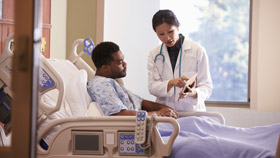 Organ transplants involve removing a diseased organ from an ill patient and replacing it with a healthy one from an altruistic deceased or living organ donor. To be eligible for an organ transplant, you must be evaluated by a medi...
cal team for suitability. If you decide to become an organ donor, it is important to inform your family and put those wishes in writing.
More