People who receive a new heart or liver face a lifetime of medication to keep their bodies from rejecting the new organ. The body is effectively "allergic" to the new organ, much as we would like it not to be.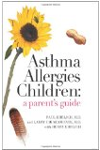 More About this Book
Asthma Allergies Children: A Parent's Guide
Asthma and allergies are at epidemic proportions. It doesn't have to be that way. Two experienced pediatric allergists tell everything a conscientious parent needs to know about these conditions,...
Continue Learning about Organ Transplants & Health Care