It is unethical to put discriminatory constraints on organ donation. For example, you cannot direct an organ donation to a specific patient based on their race, gender, religion, etc. Organs are a gift to be allocated according to clinical need.

The United Network for Organ Sharing (UNOS) is the national clearinghouse for organ allocation. UNOS was created to maximize the limited supply of organs and give all candidates a fair chance to receive the organ they need, regardless of gender, race, religion, lifestyle, or financial or social status. It manages the national transplant waiting list, matching donors to recipients 24 hours a day, 365 days a year, for every transplant center in the country.
Continue Learning about Organ Transplants & Health Care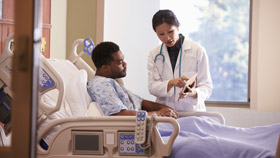 Organ transplants involve removing a diseased organ from an ill patient and replacing it with a healthy one from an altruistic deceased or living organ donor. To be eligible for an organ transplant, you must be evaluated by a medi...
cal team for suitability. If you decide to become an organ donor, it is important to inform your family and put those wishes in writing.
More