It's good to identify yourself as an organ donor before something tragic happens. In this video, Ronald Martin, RN, with the transplant services team at Riverside Community Hospital, says this removes the decision having to be made by loved ones.
It is a good idea to let your family know about your decision. That way, they are not surprised by the news shortly after your death. If you intend to make a whole-body donation, it is helpful to designate someone who can make necessary arrangements with the institution you have designated after you have expired.
Continue Learning about Organ Transplants & Health Care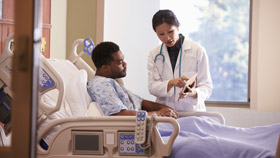 Organ transplants involve removing a diseased organ from an ill patient and replacing it with a healthy one from an altruistic deceased or living organ donor. To be eligible for an organ transplant, you must be evaluated by a medi...
cal team for suitability. If you decide to become an organ donor, it is important to inform your family and put those wishes in writing.
More