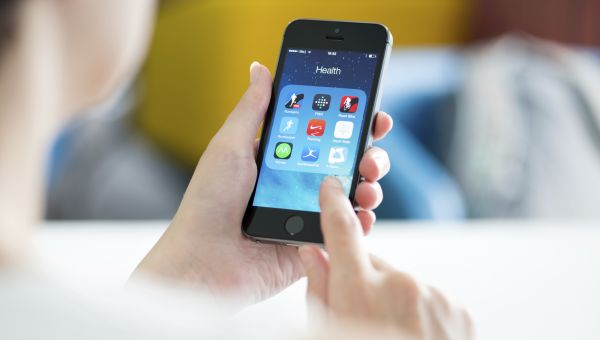 Worried about what's causing your lingering cough? Having trouble with weight loss? Wondering what foods are dangerous to eat when you're pregnant?
Need to find a physician near you? Click here.
To find answers for your health questions and concerns, you may already have a powerful tool right in your pocket or purse—your smartphone. From nutrition to neck pain, pregnancy to plantar warts, "there's an app for that"!
While an app can't replace a doctor's visit, it can provide you with great information in the meantime—and often arm you with the knowledge you need to get ready for your next appointment. But not all apps are created the same, and some can be based on dubious information, at best. Here's a quick guide to some of my favorite health apps.
Fitness: Lots of people use fitness trackers now to help them meet their activity or weight-loss goals. My personal favorite is Runkeeper. Not only can you use the GPS to track how far you actually walked or ran, you can also log other types of activities and exercise, see how your fitness is improving over time and post your results to Facebook if you wish for a little friendly competition.
Food Safety: Traveling? Before you eat that apple you purchased at a market in Mumbai, check out the CDC's Can I Eat This? app to make sure it's safe.

Pregnancy: Several great pregnancy-related apps are available, including My 9 Months by the March of Dimes, Mayo Clinic on Pregnancy, and BabyCenter's My Pregnancy Today. Then, once the little one arrives, you can track everything with Mobile Mom's Baby Feeding, Sleep & Diapering Tracker (the one I used religiously!), Total Baby, and Baby Connect.

Child Safety: The tragic news of babies left in hot cars is enough to make even the most vigilant parents nervous. Fortunately, there's an app to help you make sure you bring Junior along. Called Baby Reminder, it notices when you are driving and sends you an alert when you reach your destination.

Symptom checkers: Worried about your recent symptoms or need help finding a doctor? A number of apps can help you assess your symptoms and suggest possible causes, ranging from the very short iTriage to the in-depth AskMD, created by (full disclosure!) Sharecare.

Emergency Care: While some apps aim to keep you well, others are there for those crises you least expect—emergencies. One favorite is S.O.S., an Android app created by the American Red Cross and the American College of Emergency Physicians, in partnership with Sharecare. From questionnaires to determine the severity of a situation to narrated videos on emergency treatment (even CPR), this app is a great way to be prepared for the "un-preparable."

With our smartphones, we're able to stay in touch with information we need better than ever. What will your apps help you do today?