Salmon is one of the only foods that supplies the entire spectrum of B vitamins, supporting energy conversion and mood stability. This "oily" fish is a particularly rich source of the two most important omega-3 fatty acids, DHA and EPA, which are both linked to protection against Alzheimer's disease and cancer. A Tufts University study linked a twice-weekly intake of fatty fish to a 41 percent reduction in Alzheimer's incidence compared with an intake of once per month.
Wild versus fresh: USDA data shows that farmed Atlantic salmon actually has slightly higher combined amounts of omega-3 fatty acids. Testing shows that the levels of PCBs in farmed salmon continue to drop and are now comparable to those found in wild salmon.
Fish, particularly cold-water fish such as salmon, have been shown to be very beneficial for protecting against heart disease, Alzheimer's disease and many forms of cancer. In terms of health benefits, salmon is one of the most highly valued fish because of its exceptionally high content of omega-3 fatty acids. Wild Alaskan salmon also tends to be one of the cleanest sources of fish, as it typically contains the lowest levels of heavy metals and pesticide residues.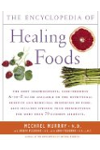 More About this Book
Encyclopedia of Healing Foods
From the bestselling authors of The Encyclopedia of Natural Medicine, the most comprehensive and practical guide available to the nutritional benefits and medicinal properties of virtually everything...
Omega-3 fatty acids, found in fatty or oily fish such as salmon, help boost your immune system, reduce blood clots and protect against heart attacks. They can also help boost your HDL cholesterol levels, lower triglyceride levels in your blood, protect your arteries from plaque buildup, fight inflammation and lower your blood pressure. "Studies show that including two or more servings of fish per week in your diet can help lower your risk of developing coronary heart disease by as much as 30% over the long term," says Wendy Bazilian, DrPH, RD, author of The SuperFoodsRx Diet and nutrition advisor at Golden Door fitness resort and spa in Escondido, Calif. "Omega-3s can also help prevent irregular heart rhythms. No common fish delivers more of the omega-3 fatty acids than salmon."
How can you get more salmon in your diet? Short of adopting a sushi habit, try cooked salmon in salads, with whole-grain pasta or in grilled salmon wraps or tacos.
Salmon is a rich source of heart healthy, omega-3 fatty acids. To beat heart disease, the leading cause of death among Americans, it is currently recommended to eat two fish (preferably oily, omega-3-rich fish) meals (3.5 ounces each) weekly to reduce the risk of heart disease.
Fish is not only low in heart-unhealthy saturated fat but also provides heart-healthy, omega 3 fatty acids. Research shows that these fatty acids may prevent irregular heart-beats, reduce atherosclerosis and mildly lower blood pressure. Americans are currently consuming only about 0.1 to 0.2 grams of omega 3s daily, on average, as compared to the 0.5 grams recommended a day. Two fish meals a week will not only meet this daily recommendation but also displace saturated-fat laden protein-rich food, such as hot dogs, regular ground beef and fried chicken on the plate.
Salmon is a good source of omega-3 fatty acids, protein, Vitamins D, A, B and minerals such as zinc, calcium, iron and phosphorus. Many of the components of salmon are helpful in maintaining cardiovascular health and lowering cholesterol, as well as aiding with glucose metabolism. Omega-3 fatty acids also assist in improving memory, relaxing the brain, preventing cancers and heart health. Salmon tastes great grilled but can also be baked and served with a dill or lemon sauce.
Continue Learning about Omega 3 Fatty Acids