Omega-3s can help prevent cardiovascular disease in the following ways:
Omega-3s reduce serum triglycerides (the fat floating in your blood, especially after a meal).
The consumption of fish or fish oil (omega-3 fats) lowers risk of death from coronary heart disease, non-sudden death from a myocardial infarction (heart attack) and sudden death.
Omega-3 fats help to keep blood clots from forming and may prevent cardiac arrhythmias.
Omega-3 fatty acids may be protective against stroke.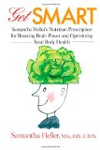 Continue Learning about Omega 3 Fatty Acids