Many of my clients ask me about weight control drugs. So many people struggle with their weight and really want that quick fix. Remember this there is no quick fix. The weight didn't come on your body overnight and it won't come off overnight either. Getting control over your weight is not about what drug to take but how to change your lifestyle. Many people have just become inactive, poor eating habits or a little of both. Controlling your weight is as simple as 1 2 3. As long as you burn more calories than you take in you will lose weight. However if you don't exercise regualarly, eat clean and healthly you won't see a change. Taking drugs only temporily fixes the problem until you come off them and then you are right back where you started. Also the many side effects that come with many of these weight control drugs. So my advice is learn how to change your lifestyle and you will learn how to change your life.
Many docs recognize that weight-control drugs have side effects and believe prescription weight-loss medications should be used only by patients whose complications from obesity outweigh the side effects. They're not be used for cosmetic weight loss. They're approved for people with a body mass index of 30 and above, or 27 and above with obesity-related conditions like high blood pressure and diabetes.

For many people, though, the cosmetic issues cause an altered body image that also has medical consequences. I am comfortable prescribing them for women with a waist greater than 34 inches or men greater than 39 inches, or who have diabetes, depression, sleep apnea, arthritis, high blood pressure, low self esteem, or significant arterial disease.

But the one caveat is that the patient has earnestly embarked on a healthy lifestyle diet. None of these drugs have been shown to have sustained effectiveness once the drugs are stopped, but the weight losses obtained while the drugs are taken have an added effect: In my and my colleagues' experiences, they've helped patients gain confidence, get off the plateau, and lose the sense of guilt and shame associated with obesity.

Weight-control drugs help control the balance of chemical reactions in your brain so that your appetite is never in a monster-like free-for-all for food. The downside is that you may revert to old habits when you come off them.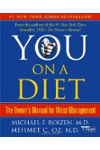 Continue Learning about Obesity