Our conditioning is made up of painful beliefs we innocently formed in childhood to protect ourselves. Not only do these beliefs no longer serve us, they keep us from our natural happiness. Given this, there are two reasons we might overeat even a healthy food:
To nurture ourselves.
To "stuff our feelings" -- to use food to medicate ourselves and avoid having to experience our feelings.
In both cases, we overeat because our conditioning has been triggered, either by an event or by our negative thinking.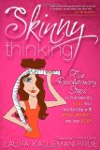 Continue Learning about Obesity