Starting with the 1960s, the increase in time that the average American spends watching TV perfectly parallels the increase in the average person's waist size. Besides keeping us from running errands outside, TV frees our hands to engage in mindless eating as we plan for the next commercial break run to the fridge. This is an especially big problem for kids who on average watch 17 hours per week.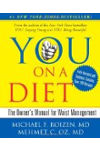 Watching television more than two hours per day and eating while watching television are each associated with obesity. In our country, obesity is a leading cause of a lower life expectancy, cardiovascular disease, cancer and diabetes. It has been shown that each extra daily hour of television kids watch is associated with an 8% increase in developing depressive symptoms by young adulthood.

Although many people report "lack of time" as a major barrier to regular exercise, the average American adult spends over four hours per day watching television.
Continue Learning about Obesity