One genetic problem associated with obesity is called leptin deficiency (leptin is a hormone associated with satiety). For folks who either don't produce leptin or block its signals, they usually become morbidly obese, and the problem is surely genetic. While some people have these abnormalities, they tend to be the minority of the population.

Still, the example of leptin is only the tip of the scientific iceberg as far as genetics and obesity are concerned. As the fight against obesity continues, we'll see more and more drug companies that target genetic reasons for weight gain—that is, drugs that attack the genetic biochemical problems that may be contributing to your obesity.

That said, the onus of waist management still falls on you—to improve your environment and your behaviors so that your genetics can work for you, not against you.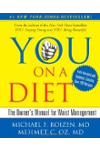 Continue Learning about Obesity