Obesity ages us to a great degree only if we have one of its side effects: disordered lipid levels, diabetes, sleep apnea (disordered breathing during sleep), arthritis, and the two most common, altered self-image and high blood pressure. Each of these side effects produces an aging effect that can be much greater than the benefit of weight loss if you don't have any of these side effects. Thus, obesity itself is not a great ager unless it comes with the side effects (unfortunately over 80 percent of people with a Body Mass Index of over 35 have at least one significant side effect). But if you suffer the side effects, losing the extra weight is a great way to give your RealAge (physiologic age) Makeover a boost. Let's look at what the benefits would be:
Reducing blood pressure: up to twenty-five years younger
Reducing the risk of arthritis: up to six years younger
Reducing lipids to a normal level: up to six years younger
Reducing the risk of diabetes: half a year younger for each year
Reducing the risk of sleep apnea: three to nine years younger
Increasing physical activity: three to nine years younger
Avoiding negative body image: up to thirty-two years younger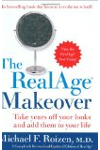 If you want to be 80 and still be able to get out of bed, then avoiding obesity is one of the most important things you can do as you age. That's because obesity is associated with nearly every disease and medical condition capable of tarnishing your golden years, including diabetes, heart disease, degenerative arthritis, osteoporosis, depression, Alzheimer's disease and cancer.

One study found that obese women could expect to spend nearly two more years with disabilities in old age than women who maintain a normal weight throughout their life. Other experts suspect the current obesity epidemic may actually decrease average life expectancies in the United States for the first time.
Continue Learning about Obesity