Cortisol is the body's chief stress hormone that also controls how your body processes carbs, fats, and proteins, and helps it to reduce inflammation. Because it's the hormone responsible for protecting you, its actions increase your appetite, tell your body to stock up on more fat, and break down materials that can be used for quick forms of energy, including muscle. Not all that you'd like to happen, but when your body senses stress (even when you know it's not the kind that will physically kill you in ten seconds or less), it thinks you won't see food again for a while -- or it may need an ample supply of fuel to camp out on during a famine or use to make a mad dash. In other words, cortisol causes tissues to break down, including muscle, skin, and collagen, while at the same time assembling fat.

For this reason, excessive cortisol levels can wreak havoc on the body, making it hard to lose weight, replenish cells, encourage the growth of new cells, and form new youth-building collagen. Excess cortisol over time can lead to increased abdominal fat, irritability and full-blown depression, bone loss, a suppressed immune system, fatigue, and an increased risk for insulin resistance, diabetes, and heart disease just to name a few things. Everything takes a hit, including blood vessels that become more fragile and can't keep meeting demands. Cortisol does, however, serve a positive role. It helps immune cells attack infectious invaders and tells the brain when those invaders have been taken care of. And another way to look at its effects in mobilizing fat and upping your appetite is that it builds up energy reserves (calories) that your muscles may need soon. But for the most part, you don't need those energy reserves because you're not in dire straits. You're just overreacting to a trivial stressor that your body interprets as something serious. But it has a profound impact on you regardless.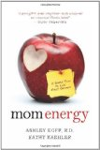 More About this Book
Mom Energy: A Simple Plan to Live Fully Charged
       From celebrated dietitian Ashley Koff and fitness trainer to the stars Kathy Kaehler comes Mom Energy, an exciting new way for moms to tap into their own natural and renewable sources of...
Continue Learning about Obesity