Obesity is a national problem, affecting nearly one in four adults in the United States. Obesity is not just a US problem. A recent report from England estimates that one in three men and one in four women will be obese. In China, one in five adults is overweight or obese.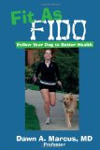 More About this Book
Fit As Fido: Follow Your Dog to Better Health
Let your dog teach you to live a happier, healthier, and more fulfilling life! Companionship with your pet can be used as a means and a motivator to increase your own physical and mental fitness....
Adult obesity is very common in the United States. About one in three adults is obese. But the growing problem of obesity isn't limited to this country. There are at least 500 million obese adults around the globe, according to the World Health Organization. Obesity increases the risk for many serious medical conditions, including heart disease, high blood pressure, type 2 diabetes and some forms of cancer. If you're struggling with a weight problem, talk to a doctor.

Continue Learning about Obesity