Being overweight raises your risk for developing osteoarthritis in a weight-bearing joint like the knee—and even in the hand, according to some research, since inflammatory factors related to weight might exacerbate this condition. Simply walking across level ground puts up to one-and-a-half times your body weight on your knees. That means a 200-pound man will deliver 300 pounds of pressure to his knee with each step. Off level ground, the news is worse: each knee bears two to three times your body weight when you go up and down stairs, and four to five times your body weight when you squat to tie a shoelace or pick up an item you dropped.
Continue Learning about Obesity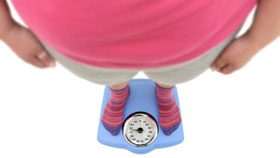 If you have too much body fat, you are obese, just like over 70 million other Americans. It happens because you eat more calories than you use, and your body converts the excess to fat. There are lots of reasons that this can happ...
en. Our lifestyle may lack exercise, we are given portions that are too big and too caloric when we eat, and some of us are just more efficient genetically at converting food into fat.
More