Fat produces many hormones that cause high blood sugar (resistin), high blood pressure (angio tensinogen), accumulation of plaque and inflammation in our arteries, and regulates our blood lipids. Fat around our middles (visceral fat) is much more productive than peripheral fat (the fat under our skin), and is therefore much more dangerous to our health.

When you carry your weight around your waistline you are more likely to develop "metabolic syndrome." This is a dangerous condition where your waist measures greater than 36 inches if you are a man, and greater than 40 inches if you are a woman and you have two of the following four cardiac risk factors: high triglycerides (blood fat), high blood sugar, high blood pressure, and low high-density lipoprotein (HDL) -- the good cholesterol. Metabolic syndrome increases the likelihood of developing type II diabetes by more than 500 percent, increases your chances of having a heart attack by 300 percent, and dying of a heart attack by 200 percent.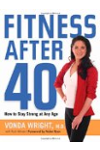 More About this Book
Fitness After 40: How to Stay Strong at Any Age
It's one of the undeniable facts of life. After we reach a certain age, our bodies change. No matter how fit we may have been at 20, we're very different people after 40. But growing older doesn't...
Continue Learning about Obesity