You think you're doing something right. You're overweight, which causes high blood pressure, so you go on medication to bring your BP down. Or maybe you're depressed about being overweight and you take an antidepressant to help deal with self-esteem issues. The irony of it all? Many of the drugs used to treat those issues have been shown to make you gain weight.

Beta-blockers, one of the most commonly used drugs for hypertension, for instance, has been shown to cause weight gain and decrease metabolic rate by 10 percent. Several classes of antidepressants have also been shown to increase body weight, as has insulin (used to help control diabetes, which can be caused by obesity).

The lesson: Don't automatically assume that medications—even ones designed to help a specific problem—will help your weight-loss efforts. I recommend you ask your doctor about weight side effects of drugs and try addressing weight issues with nutrition and activity levels first, before starting a prescription regimen that may leave you with an increase in the very thing you're trying to decrease.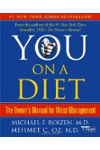 Continue Learning about Obesity