Yes, you can get too much potassium which can be life threatening. Too much potassium in the blood is caused by unbalanced intake and elimination. This imbalance can be caused by taking more than your kidneys can excrete, suffering a decrease in kidney function from disease, taking drugs (water pills or ACE inhibitors) that can alter kidney function. Talk to your doctor about medications and conditions that may contribute to excess potassium in your body.
Too much potassium can cause heart rhythm problems, which may be fatal.
Of course, but most people can handle any excess of potassium. The only exception is people with kidney disease. These people do not handle potassium in the normal way and are likely to experience heart disturbances and other consequences of potassium toxicity. Individuals with kidney disorders usually need to restrict their potassium intake and follow the dietary recommendations of their physicians.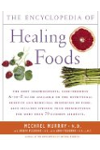 More About this Book
Encyclopedia of Healing Foods
From the bestselling authors of The Encyclopedia of Natural Medicine, the most comprehensive and practical guide available to the nutritional benefits and medicinal properties of virtually everything...
Continue Learning about Nutritive Agent