Food dyes have garnered enough controversy and research to deem them unsafe for consumption as noted in Center for Science in the Public Interest's "Rainbow of Risks." The three primary dyes used in food—Red No. 40, Yellow No. 5 and Yellow No. 6—are all under scientific scrutiny, and their safety is questionable. In fact, Red No. 40 is thought to worsen hyperactivity in already hyperactive children. The dyes exist today in everything from pickles to baked goods and, of course, candy.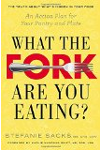 More About this Book
What the Fork Are You Eating?: An Action Plan for Your Pantry and Plate
It's labeled "natural," "grass-fed," or "free-roaming;" yet it might be anything but. It's time to find out what you're actually eating... When your groceries are labeled "low-fat," "sugar-free," and even "natural" and "antibiotic-free," it's easy to assume that you're making healthy choices. Yet even some of those seemingly wholesome offerings contain chemical preservatives, pesticides, and artificial flavors and coloring that negatively affect your health. In What the Fork Are You Eating?, a practical guide written by certified chef and nutritionist Stefanie Sacks, MS, CNS, CDN, we learn exactly what the most offensive ingredients in our food are and how we can remove (or at least minimize) them in our diets. Sacks gives us an aisle-by-aisle rundown of how to shop for healthier items and create simple, nutritious, and delicious meals, including fifty original recipes.  
Nature created colorful fruits and vegetables so they'd be attractive to us. They help with our hearts, our eyes, our skin, our digestive tract, and provide antioxidant benefits. The colors created in a lab with numbers on them are made to look pretty, but they are imposters and may exacerbate behavioral reactions in people with sensitivities. The Food and Drug Administration (FDA) is investigating a potential link between food dyes and attention deficit hyperactivity disorder (ADHD) in children. Pretty soon, we could see these ingredients totally banned!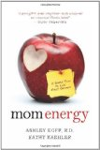 More About this Book
Mom Energy: A Simple Plan to Live Fully Charged
       From celebrated dietitian Ashley Koff and fitness trainer to the stars Kathy Kaehler comes Mom Energy, an exciting new way for moms to tap into their own natural and renewable sources of...
Continue Learning about Nutrition